The Purpose of a Business Continuity Plan is to ensure the organization can maintain normal operations despite the disruption caused by unplanned events such as natural disasters, cyber-attacks, or other emergency situations.
Business continuity plans provide the guidelines for how an organization will respond in these emergency situations and ensure that essential operations can still be carried out with minimal interruptions.
These plans also outline strategies to recover any lost data or systems and restore services quickly. Additionally, business continuity plans help organizations keep their customer relationships intact during a crisis situation.
1.Risk Reduction
By having a business continuity plan in place, you can reduce your risk by ensuring that your organization is prepared for any potential emergency situation. This will give you the peace of mind of knowing that if something unexpected occurs, you have plans and processes in place to address the issue quickly.
2. Cost Savings
Developing and implementing a business continuity plan can save you money in the long run. These plans will decrease downtime due to emergencies and increase efficiency across all departments, ultimately leading to cost savings over time.
3. Reputation Protection
In today's digital age, customers expect businesses to be available 24/7 — even during times of crisis or emergency situations. With a proper business continuity plan in place, your organization can ensure that it remains open for business and maintains its reputation for reliability and dependability during difficult times.
4. Regulatory Compliance
Depending on your industry, there may be regulations or laws that require organizations to have contingency plans for certain types of disasters or other events. By having these plans already developed and implemented, you can easily comply with any required regulations or laws without having to scramble at the last minute when disaster strikes.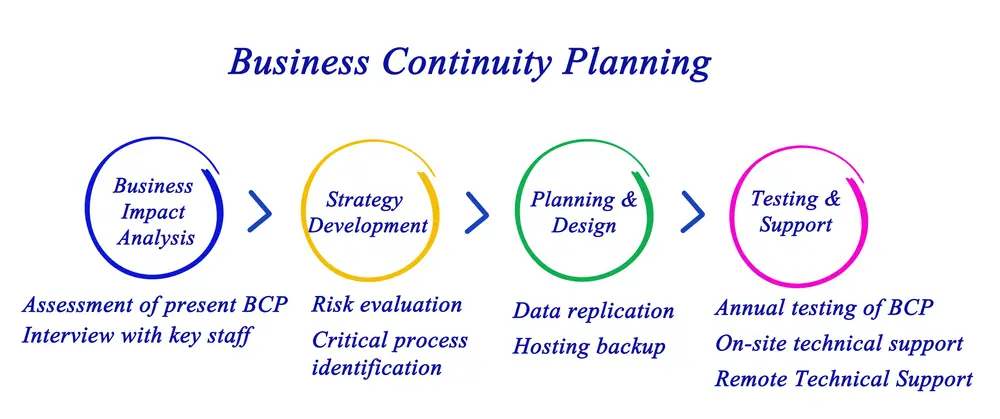 What is business continuity planning?
Business continuity planning is a process of identifying, assessing and mitigating potential risks that could disrupt the organization's operations. This includes developing strategies for quickly restoring services or systems that may be damaged or lost due to an unplanned event such as a cyber attack or natural disaster.
Business continuity plans also provide guidelines for reducing any financial losses suffered during disruption. Finally, these plans help maintain customer relationships during difficult times so that essential operations can still be completed without major interruptions.
Business continuity planning enables organizations in all stages of disaster recovery to maintain vital processes. Business continuity differs from disaster recovery because it combines holistic and scalable business solutions.
A business continuity strategy is a business-wide strategy that ensures that critical business functions continue when a disruption occurs.
Difference between disaster recovery and business continuity
The main difference between disaster recovery and business continuity is in the scope of their plans. Disaster recovery plans focus on restoring data and systems that have been lost or damaged due to an unplanned event. Business continuity plans, on the other hand, take a broader approach.
They include strategies for responding to and recovering from an emergency situation but also consider how the organization will keep essential operations running while recovering from the disruption. Additionally, business continuity plans look to maintain customer relationships during a crisis, while disaster recovery focuses primarily on restoring lost data and systems.
Use a disaster recovery plan in combination with a business continuity plan to get a good strategy for dealing with the dangers in the future and returns the organization to normal business operations.
The importance of a business continuity plan
A well-developed plan provides critical protection should something unplanned occur that causes disruption to operations. It ensures business processes can be returned to normal as quickly as possible and guarantees customer relationships are maintained during this time.
Properly implemented business continuity planning also helps minimize financial losses and protects a company's reputation, both extremely important assets for any organization.
A comprehensive Business continuity plan prepares you for recurrent interruptions. This eliminates the usual confusion that comes with any disaster by providing an easy plan. Business continuity plans also support communication between workers and consumers.
Business process operations are critical for business operations. Customer support response. Especially when you provide service. Keeping data and information safe wherever you and your teamwork.
BCP testing
The technologies of organizations are constantly evolving. The BCP is thus essential to regularly test, examine and update. The business continuity team plans to test to be carried out by incorporating table-top exercises, walkthroughs, practice crisis communication, and emergency implementation.
The BCP should be maintained periodically to be up-to-date with all new features. One test to see if there is scalability in your business continuity plan can include discussing the plan in your own case. It requires complete analysis to understand how business disruption might impact business operations.
Business continuity planning software, tools and trends
Resources can be used to support organizations throughout the business continuity plan process. What approach a company needs depends on the complexity of the operation continuity planning process and the time and recovery strategies available.
For more complex functions, business continuity planning applications may use a database or module for specific activities. The U.S. Department of Homeland Security has offered Software for the Business Continuity Plan Suite.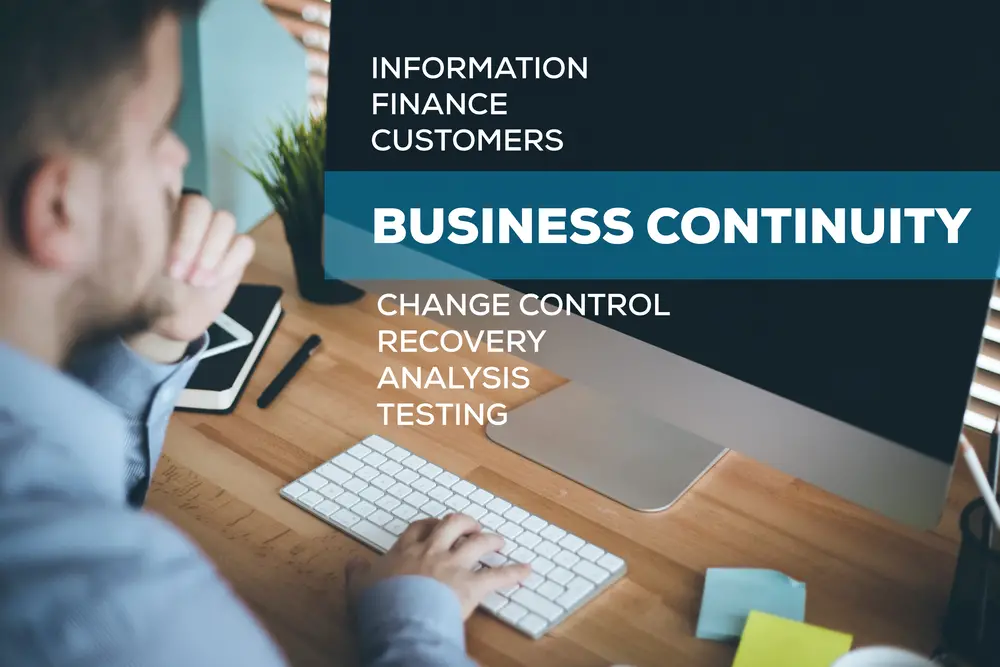 What is a business continuity plan?
Business continuity plans are a document in which the company must provide essential data to operate after a nonplanned event. It explains how businesses function, defines what systems and processes are needed, and describes their methods of operation.
Possibly disruptive business activity. It covers risks such as cyber-attacks, pandemics, natural disasters, and human errors. A successful business continuity plan will help protect their health and reputation. In the long run, BCPs can prevent power failure and IT issues.
Free download of BCP template
Business continuity professionals have evolved and will evolve. Business continuity managers need to understand technology, security risk management, emergency management, crisis management, and strategic planning.
Business continuity planning must include emerging e.g. cloud technology virtualization and new threats such as hacker attacks. One tool that mixes this element is SearchDisasterRecoverys free downloadable plan template.
Importance of business continuity planning
The business continuity strategy is an effective business process that can identify potential threats to an organization's operations. Business continuity programs ensure that companies can react efficiently when an event occurs.
A BCP helps companies continue to provide support in a crisis and reduce the chances for clients to go elsewhere. These plans reduce business downtime and provide information about how the business should act in determining its financial viability.
Implementation of BCP
Once businesses start planning, they begin using BIA or RA to gather valuable data about their plans. BIA defines a key function that must be maintained during an emergency.
This will determine a strategy for handling the risk outlined within BIA or RA. A successful business continuity strategy describes how these steps can take place.
Disaster recovery
is critical to the reconstruction of businesses. It is because of their unpreventability that they cause destruction. Preparedness may not prevent a disaster, but it can help you reduce costs for your organization as a whole.
Research indicates that fewer companies recover after catastrophes. Often big corporations are hit. When we think about disasters, we often think of disasters like earthquake and flooding.
Business Continuity Plan Objectives aligned with Templates
A Business Continuity Plan (BCP) should have specific objectives that are clearly defined. These objectives should be aligned with common templates used to create the plan, such as incident response, preventive measures, and recovery processes.
For example, the primary objective of a BCP may be to ensure that essential functions are kept running during a major disruption event, while templated tasks such as developing alternate communication plans or identifying key contacts could help achieve that overarching goal.
Other objectives could involve creating an evacuation plan for employees in an emergency situation or outlining procedures for recovering lost data and systems.
Ready.gov is a federal agency whose primary goal is to marshal FEMA and DHS resources. Founded in 1926, the organization provides information for citizens to improve their ability to respond to emergency situations, including natural or anthropogenic disasters.
This website is devoted to business problems and contains a template for preparing a business continuity plan. It has the following sections:-
Identify the location of critical data and assets
IT businesses are a key focus when determining where critical data or other asset is being stored. This helps recovery teams begin recovery when critical IT personnel is not available.
There should be some plans that others can follow. Any confusion would greatly hinder recovery efforts. The IT Assets Management System allows organizations to automate the management of assets to eliminate the possibility of duplicated, inaccurate serial numbers or overlap with tags.
Identify backup locations and resources.
Recovery teams need to find a location for their relocation operation and what resources are needed. Your BCP will detail whether space is available as a backup office or procedures to secure a new space quickly.
It also will reference if a backup physical system exists, like computer hardware. The most common disaster recovery backup sites can be categorized by combining cold site, warm site, cold site, and mobile location.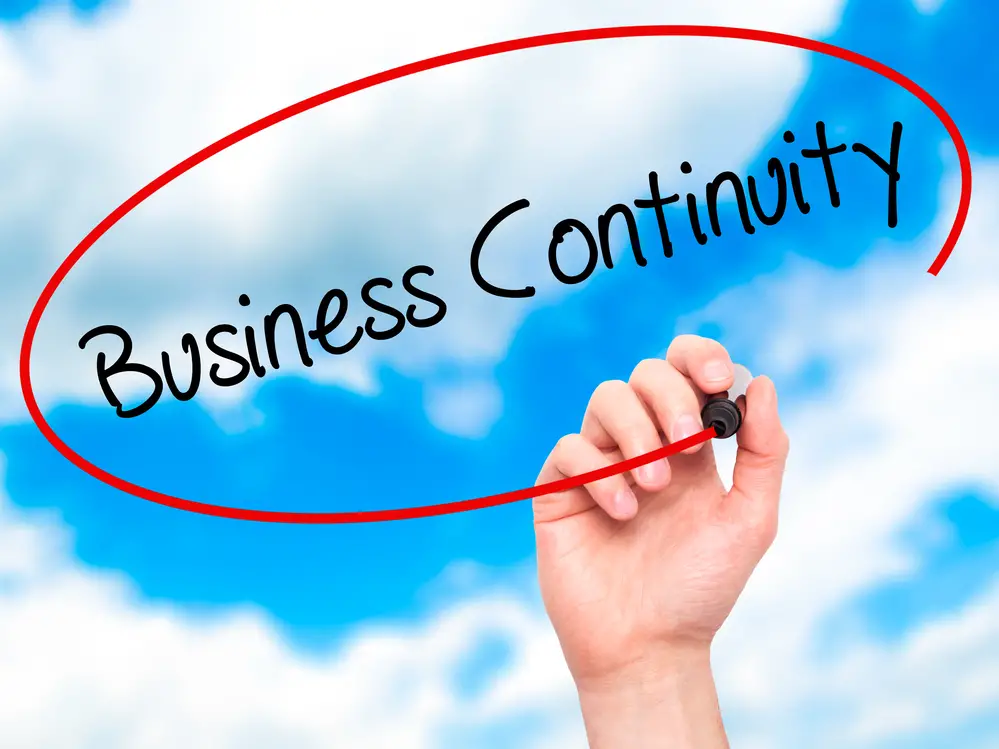 Prioritize emergency communications.
What is the communication between our customers when an emergency occurs? How can you inform your workers? What media is it? With the proper Business continuity management policies, recovery personnel knows their roles inside and outside a critical situation.
A key objective of your crisis communications plan is to ensure that everyone is at ease and able to fulfill their obligations. Disaster events can destroy normal communication channels, so alternate channels are needed.
Provide step-by-step protocol.
Your plans contain specific procedures for recovery; describe how you can recover from injury. If an accident happens, they will probably not recall what they should have done. Your catastrophe team should have an idea and, if necessary, can check documents for procedures as specified below.
Hence a continuity plan and a disaster recovery plan should be distinguished. A business continuity plan has the ability to provide disaster recovery services as part of its overall strategy.
Fulfill external requirements
The final objective has little to do with a specific section of the Plan itself but rather addresses the reality that a BCP has the potential to satisfy the external requirements of a regulator, vendor, and insurer. Several industries require business continuity management.
According to the disaster management institute, the industry requires more than 120 rules. This is mandated by regulations such as FINRA and HHS Acts.
Assess Risks and Impacts
Another crucial reason to create a BCP is to assess and evaluate internal or external risks to your operation. The findings from the risk assessment can be integrated into the company's impact assessment, specifying the types of catastrophic events that would disrupt your business and quantify its impact in each scenario. Business Impact Analysis sets up your remaining BCP.
Identify Disaster Recovery Personnel
Identifying personnel who will work in a disaster recovery team is a key objective. A key part of disaster recovery is the coordination of crisis management. Often these people call themselves the Disaster Recovery Coordinator. This person is responsible for initiating recovery program protocols and managing business operations.
Find weaknesses and propose solutions.
Ensure your continuity plan is inspected. The BCP is both a process and a static document. It requires a continuous risk assessment to identify a scenario that leaves the operating system unprotected. Keeping the continuity of service plans updated with upcoming changes is crucial.
List the current preventive measures.
What can be done to protect our businesses? That's one other reason to apply for a BCP. It will explain the technology, tools of operation, and protocols for preventing disasters. Cloud storage is integrated into the prevention measures analysis.
Conclusion
A business continuity plan is an invaluable tool for every company, regardless of size or industry. It provides protection against unexpected disruptions, minimizes risk, identifies weaknesses, saves time and money, and protects your brand's reputation in the process—all of which are essential components for long-term success! With careful planning and implementation, any business can benefit from having a well-crafted BCP in place!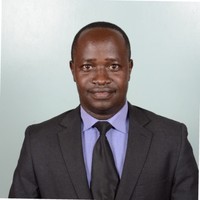 Chris Ekai is a Risk Management expert with over 10 years of experience in the field. He has a Master's(MSc) degree in Risk Management from University of Portsmouth and is a CPA and Finance professional. He currently works as a Content Manager at Risk Publishing, writing about Enterprise Risk Management, Business Continuity Management and Project Management.