Business continuity management elements include; establishing a BCM program, risk assessment, business impact analysis, programme training. Testing and updating the plan which includes the BCM and Communication plan.
(BCM) is a term that is used in a variety of ways, but at its core it is the process of ensuring that an organization can continue to function during and after a disruptive event. While there are many elements to BCM, some key components include business impact analysis (BIA), risk assessment, recovery planning, and testing and exercises. By taking these steps, organizations can reduce the chances of major disruptions and ensure that they can still meet their goals even in times of crisis.
Business Continuity Management
Building a successful business takes a lot of hard work, dedication, and planning. But what happens when something unexpected happens? How do you make sure your business can keep going despite any challenges that come up? By implementing a sound business continuity management plan, you can help ensure your company's survival in the face of disaster. In this blog post, we'll discuss some key elements of effective BCM and explain why it's so important for businesses to have a plan in place.
In order to keep a business running smoothly, it is important to have a business continuity management (BCM) plan in place. This plan outlines how the company will continue to operate in the event of an unexpected disruption. There are several key elements that should be included in a BCM plan. In this blog post, we will discuss some of those key elements and provide tips for creating a successful BCM plan.
In order for a company to be successful, it is important that it has a plan in place for continuity in the event of an emergency. Business continuity management (BCM) is a process that helps organizations ensure that critical functions can continue during and after an incident. There are several key elements to BCM, and each one is essential for creating a comprehensive plan. In this blog post, we will discuss the three most important components of BCM.
Business Continuity Management Process
A business continuity management (BCM) process is a series of steps or activities that are followed to ensure that critical business functions can continue in the event of a disaster or emergency. The BCM process begins with risk assessment and identification of key business functions, and then proceeds with development and implementation of continuity plans for those functions.
In order for a BCM plan to be effective, it must be regularly tested and updated to reflect changes in the business environment. The BCM process should also include regular communication and training for employees so that everyone is aware of their role in maintaining continuity of operations.
The business continuity management process is designed to help an organization prepare for, prevent, mitigate the effects of and respond to disasters. The four phases of this process are:
–Preparation phase – This includes identifying potential threats and hazards that could affect your organization's operations as well as preparing your response plans.
–Mitigation phase – In this stage you will work on reducing any harm done by the disaster or hazard before it occurs. This may include things like closing off access points or removing hazardous materials from a location.  
–Recovery phase – Here you will focus on getting back to normal operations as quickly as possible after a disaster has occurred.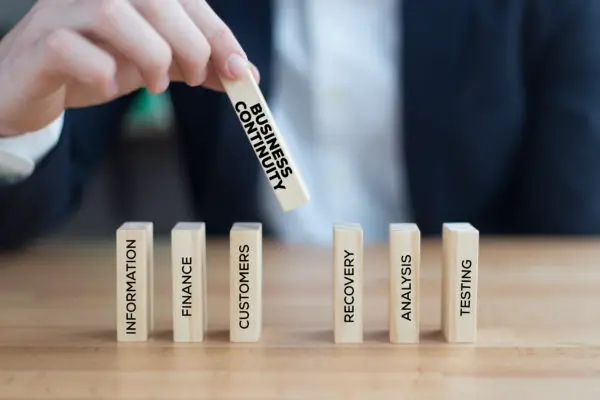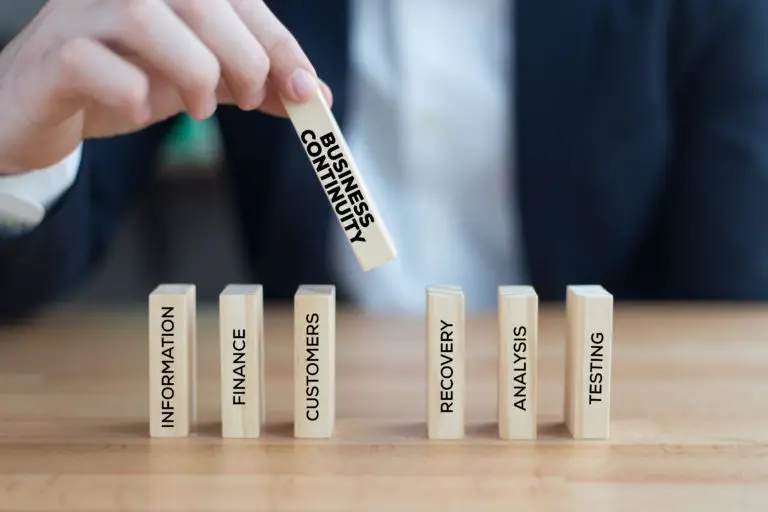 Business Continuity Planning
Business continuity planning (BCP) is a set of measures aimed at ensuring the continuation of an organization's essential operations in the event of a disaster or emergency. It includes planning for both short-term and long-term disruptions, and can include provisions for dealing with both manmade and natural disasters.
Essential operations may be defined as those that are necessary to preserve life, protect property, ensure public safety, or maintain critical infrastructure. They may also include key business functions such as financial transactions or the provision of goods and services.
BCP involves creating a plan that will allow an organization to continue operating despite facing disruptions. This plan should identify which essential operations need to be maintained, how these operations will be supported and maintained.
A BCP typically includes processes for assessing risk, identifying critical functions and resources, developing backup plans and testing them to ensure readiness.
The following procedures should be followed in business continuity planning:-
Establish realistic recovery time objectives (RTOs) and recovery point objectives (RPOs). These represent the maximum amount of time and data loss that your company can tolerate.

Document all essential business functions and processes. This will help you identify which systems and data are most critical to your organization's ongoing operations.

Create a disaster recovery plan, outlining the steps needed to restore essential systems and data in the event of a disruption.

Test your plan regularly, rehearsing both minor disruptions (e.g., server outage) and major disasters (e.g., natural disaster).
Standard on Disaster/emergency Management and Business Continuity Programs
The ISO 22301:2019 standard establishes a best-practice BCMS. A BCMS aids businesses in managing events that affect all business-critical processes and activities, from the failure of a single server to the loss of an entire facility.
The standard covers everything you need to know about establishing, maintaining, and improving a management system to avoid, minimize the chance of, prepare for, react to, and recover from disruptions as they occur.
The requirements outlined in this paper are simply defined and intended to be applied to all organizations, regardless of type, size, or complexity. The degree to which these standards are applied is determined by the organization's operating environment and policies.
It builds on previous regional standards like British Standard BS 25999 and others. It's intended to shield your company from downtime due to natural disasters, fire, floods, earthquakes, theft, IT outage, staff sickness, or terrorist attack. Extreme weather events like storms and blizzards are
The ISO 22301 management system allows you to identify potential threats to your company's vital business functions, as well as put precautions in place ahead of time to prevent your company from coming to a halt.
Importance of ISO 22301 business continuity management
Recognize and manage current and potential dangers to your company.

Take a proactive approach to mitigating the impact of incidents.

At times of crises, maintain crucial activities operational.

Minimizing downtime during incidents, as well as speeding up recovery time,

Demonstrate your ability to withstand the demands of clients, suppliers and procurement requests.
Elements of Business Continuity Management
The key elements of business continuity management (BCM) are as follows:
Establishing a BCM plan – This should include the organization's objectives, strategies, and procedures for recovering from a disruption. The emergency planning team might include veterinarians, practice managers, and supervisors depending on the size of an organization. At smaller businesses, the selection committee may include every member of staff.
Risk assessment: This identifies and evaluates potential risks that could cause a disruption. It comprises two options i.e. threat assessment and vulnerability assessment. This assesses the likelihood and severity of threats that could affect the organization(threat)and vulnerability identifies weaknesses in systems or processes that could leave the organization vulnerable to attack or disaster.
Business impact analysis (BIA): This involves assessing the potential impacts to the organization if a disruption occurs.
Programme management: The BCM programme should be managed by a dedicated team with clear roles and responsibilities. The organization should mitigate risks that jeopardize the organizations' operations, assets, or the environment by lowering the risk to an acceptable level after the BIA.
Ensuring the availability of essential resources – These include people, technology, data, and facilities. Develop the strategies of disaster preparedness. Develop a business continuity management plan for the whole organization and critical processes.
Training employees on how to respond to disruptions – Employees need to be familiar with the BCM plan and know what actions to take in the event of a disruption. Train employees with significant responsibilities and assignments in the company continuity, disaster recovery, and incident response processes.
Testing and updating the BCM plan regularly – The BCM plan should be tested regularly to ensure that it is effective and up-to-date. The process of testing is referred to as test planning and execution, system rehearsing with coworkers, and technical infrastructure testing to demonstrate business continuity.
Communications plan

: This outlines how information will be communicated within and outside of the organization in the event
Conclusion
Business continuity management is essential for all businesses, large and small. By establishing a BCM plan, conducting risk assessments, business impact analysis (BIA), and programme management, you can ensure the continued operation of your business in the event of a disruption. Essential resources must be secured and employees must be trained on how to respond to disruptions. The BCM plan should be regularly tested and updated to reflect changes in the business environment. A communication plan is also necessary to keep stakeholders informed during and after a disruption. Implementing these key elements of BCM will help you protect your business from potential disruptions.
BCM is a critical process for all organizations, and by implementing the key components we've outlined, you can reduce the chances of major disruptions and ensure that your business can continue to meet its goals during times of crisis.
It should be tailored to the specific needs of each organization. The key components we've outlined are a good starting point, but every business will have different risks and needs that need to be considered. By taking the time to map out a comprehensive BCM plan, you can rest assured that your business will be able to weather any storm. Have you put together a BCM plan for your organization? If not, now is the time to start!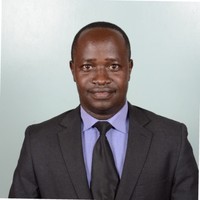 Chris Ekai is a Risk Management expert with over 10 years of experience in the field. He has a Master's(MSc) degree in Risk Management from University of Portsmouth and is a CPA and Finance professional. He currently works as a Content Manager at Risk Publishing, writing about Enterprise Risk Management, Business Continuity Management and Project Management.