Managing projects can be difficult, especially if you're unsure how to identify and mitigate risks. Projects can go off track quickly if risks are not identified and managed properly. It can lead to missed deadlines, budget overruns, and even project failure.
A risk matrix is a simple tool that can help you identify and mitigate risks throughout the project life cycle. Many different project management tools help professionals organize and manage their projects. One of the most useful tools is the risk matrix. It provides a simple way to show project managers the priorities for tasks or resources on their projects.
A risk management matrix is a table or grid that displays the risks associated with a particular project or undertaking and the corresponding responses or controls that can be put in place to mitigate those risks.
The matrix rows usually represent different types of risk, while the columns typically list different response strategies or controls. The intersection of a given row and column then shows the specific risk mitigation measures that should be put in place for that particular risk.
The tasks of the projects are broken into a specific number of priority levels. The risk matrix template breaks down the tasks into four priority levels: critical, high, medium, and low. The risk matrix can also be known as the risk register.
The risk matrix can help identify and mitigate risks throughout the project life cycle. By using a risk matrix, professionals can ensure that their projects are completed on time and within budget. This blog post will discuss creating and using a risk matrix for your next project. Happy reading!
How Do you use a Risk Matrix in Project Management?
Once you have filled in the table with information about your project, you can use it to decide what risks are worth worrying about and what actions should be taken to mitigate them. It can be helpful to use a risk matrix when making decisions about how to respond to risks and can help to prioritize risks based on their severity.
How Do you Create a Project Risk Matrix?
Risk matrices can be created by following the steps above, but typically they will have columns for threats and opportunities and rows for probability and impact. Threats are usually evaluated on their likelihood of occurring and the severity of the consequences if they do occur, while opportunities are usually evaluated on their potential benefits and the likelihood that they will happen.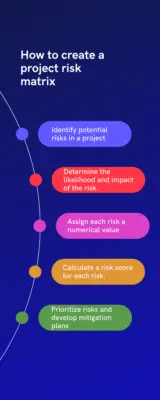 Project Management Risk Register
A project management risk register is a comprehensive list of potential risks associated with a specific project. It can help identify, assess, and prioritize risks and develop mitigation plans. The register should be updated regularly as the project progresses.
Risks can be classified according to their likelihood of occurrence and their impact on the project. Mitigation measures should be identified and tracked for each risk to ensure that they are implemented if/when the risk occurs.
The benefit of project management risk management
Project Management Risk Log
A project management risk log is a document used to track risks and potential problems associated with a project. A document captures risks and issues identified during project planning and tracks the risk response plan.
Risks are entered into the log, along with any associated data, such as the probability of occurrence and impact on the project. The log is then updated as the project progresses, so that team members can keep track of any new risks that may have arisen and decide what action to take if necessary.
The benefit of project management risk log
Project Management Risk Types
Project risks can be categorized as follows:
Risk Mitigation Strategies in Project Management
Risk mitigation is a process of identifying, assessing, and responding to risks to minimize their negative effects on a project. Mitigation strategies may include developing contingency plans, using risk-management tools and techniques, and modifying the project plan or schedule.
Risk mitigation strategies are not always easy to identify or implement. There are many different risk mitigation strategies, and each project has its own unique needs.
Examples of risk mitigation strategies in project management
Project planning: By carefully planning the project, you can identify and mitigate potential risks.

Risk assessment: Periodically assessing the risks involved in a project can help you take steps to mitigate them.
Create a risk management plan: This document will outline how you will respond to various risks as they occur.
Use risk monitoring tools: Various tools and techniques can help you track and manage risks throughout a project.

Communicate with team members: Keeping everyone informed about potential risks helps them be better prepared to deal with them if they occur.

Respond quickly to any issues that arise: The quicker you address risk, the less likely it will disrupt project operations.
Risk strategies project management
A risk strategy is a plan for how a project manager will mitigate risks as they are identified. May include creating backup plans, assigning specific team members to handle possible risks, or requesting additional resources to help manage potential problems.
Risk management is an important part of any project, and it's especially critical when there are factors that could cause the project to go over budget or be delayed. By developing a risk strategy early on, project managers can help ensure that any potential problems are dealt with quickly and effectively.
In the context of risk management, a strategy is a plan of action that will be followed to mitigate or avoid potential risks.
Risk strategies are typically devised during the risk assessment phase of project management and can include things like implementing backup plans, establishing milestone checkpoints, and creating detailed communications plans. By anticipating and addressing potential risks upfront, project managers can help ensure that their projects stay on track and scheduled.
Benefits of risk strategies project management
Project Risk Management Software
Project risk management software is a tool that helps project managers identify, assess, and respond to risks to minimize their negative effects on a project. This software can help teams communicate better about potential risks, and it provides tools and techniques for managing risk throughout the course of a project.
Various tools for project management can help you monitor and manage risks throughout a project. Risk management software is one such tool, and it can provide benefits like:
Conclusion
As project managers, it is important to have a plan for risk mitigation. In conclusion, using a risk matrix in project management can be an incredibly effective way to assess and mitigate risks. It is important to create a risk matrix that accurately reflects your project's risks and to have a robust risk management plan in place. A risk matrix is a high-level tool paired with detailed risk management plans.
Risk mitigation is one of the most important aspects of project management. With a strong risk plan, a project manager can better mitigate risks and adapt to changes when they occur.
With careful planning and execution, you can use risk mitigation strategies to protect your project from potential problems. Risk management software can help make this process easier by providing tools to help you track and manage risks. Have you ever used a risk matrix in project management? What was your experience? Let us know in the comments below.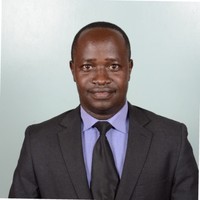 Chris Ekai is a Risk Management expert with over 10 years of experience in the field. He has a Master's(MSc) degree in Risk Management from University of Portsmouth and is a CPA and Finance professional. He currently works as a Content Manager at Risk Publishing, writing about Enterprise Risk Management, Business Continuity Management and Project Management.